Core MyAccount Features
All of your account information at your fingertips
MyAccount allows you to quickly and easily keep track of all of your account details. Track your usage, view your invoices and review your payments for one or all of your accounts. You can also use tools like Usage and Spend Alerts to keep track of unusual account activity, or set up reports to track your contract performance, monthly spend, usage and more.
Gain account access from anywhere
Our responsive design lets you view MyAccount from any device, giving you the opportunity to manage your accounts from anywhere, at any time.
Customized options for your business
No matter your business size or type, whether you're a broker or third-party payer, MyAccount provides customized options to support your specific needs.
Navigating MyAccount: Customers and accounts dropdowns
The 'Accounts' dropdown allows you to select 'all' or a specific individual account to view detailed information about. If you have multiple customers, you can also switch between them via the 'Customers' dropdown.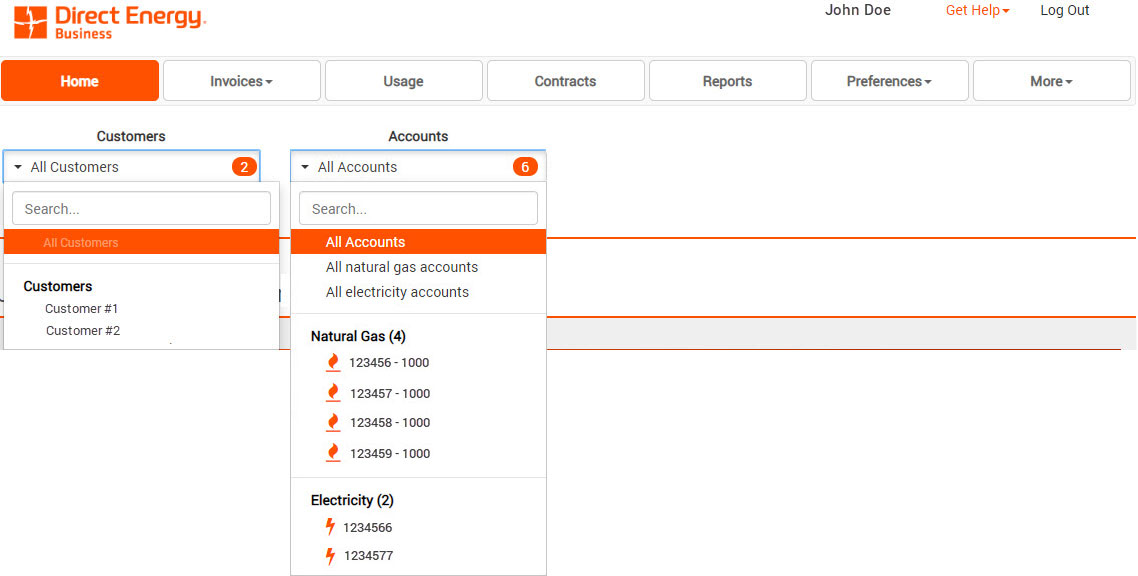 Home Page
Your Home page (the view you see once you've logged in) provides an overview of your accounts. Here you can see your recent invoices for your accounts, your current balance due, and graphs illustrating your usage for the current month, the previous month and same month last year for power, gas or both.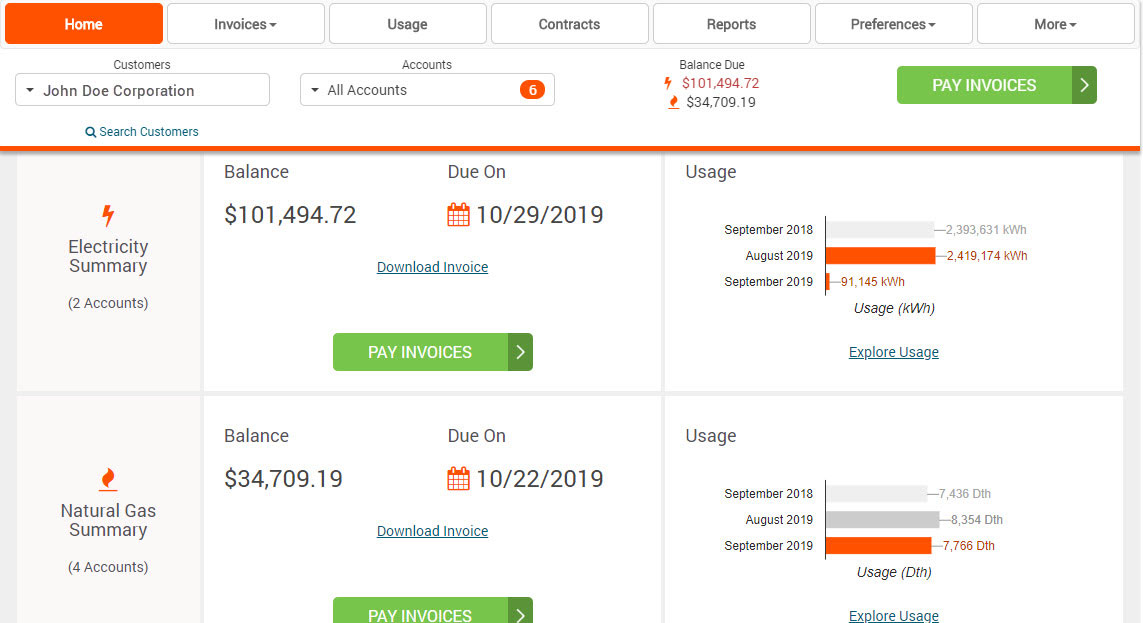 Your Usage
Under your 'Usage' tab, you can compare your monthly usage and spend data for each account to your monthly usage and spend totals from last year (or any prior year's data that's in MyAccount) and plot it in a printable chart. You can also view detailed usage for each of your service locations and create Excel reports of your usage history. Click the 'Show Me' button on any of the data sets on this page to learn more about your options for each output.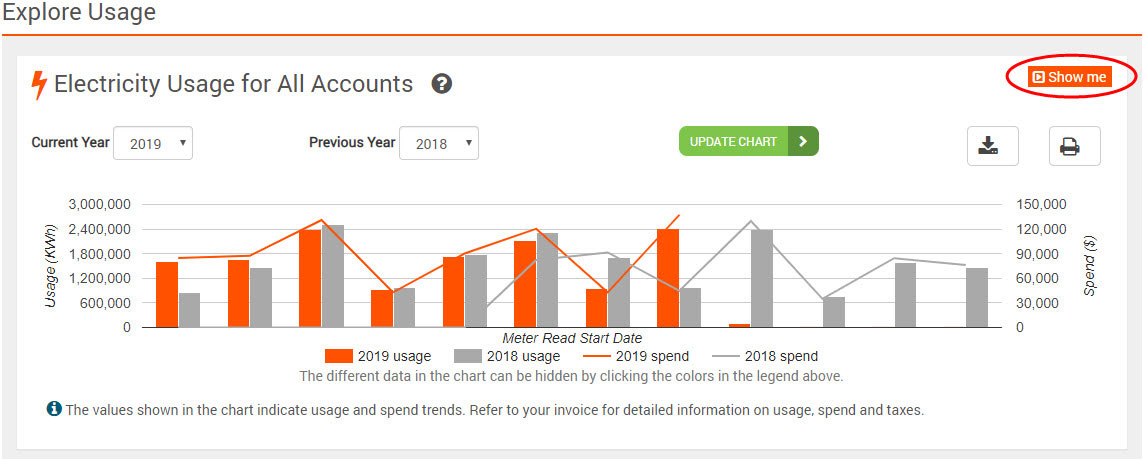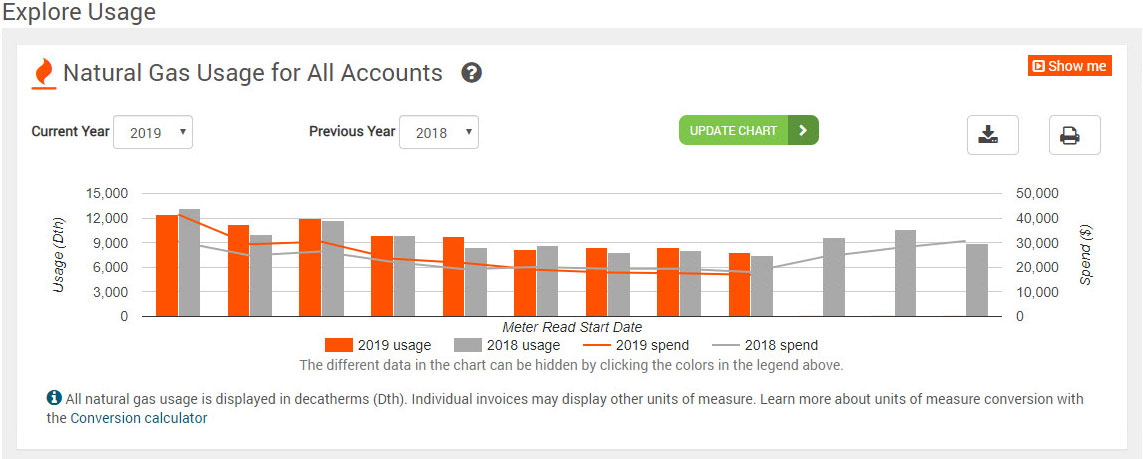 Your invoices & payments
MyAccount retains records of all your invoices and payments. On the 'Invoices' tab, you can view your invoices and payments, download copies of your invoices, send invoices to others, and create Excel reports of your invoice/payment history. Here you can also set up paperless billing and edit your invoice preferences, you access the 'Go Paperless' page (also within the 'Invoices' tab).
Online payments
If any of your accounts are eligible for online bill-pay, you will find this function on the 'Invoices' tab or on your home page by clicking the 'Pay Invoices' button. The 'Pay Invoices' page will guide you step-by-step through the payment process but you can learn more about paying your electricity or natural gas invoice(s) in those sections of our FAQs.

Note: If you are billed by your utility on our behalf (also called "utility consolidated billing") you cannot pay your bills online through MyAccount.
Reporting tools
Reporting and analyses can be key to making better energy decisions. Use energy market alerts to track specific market changes that are important to your strategy. Set usage and spend alerts (on the 'More' tab) to monitor usual or unusual account activity. Choose from a list of helpful reports (on the 'Reports' tab) that you can run to get a more in-depth look at contract performance, power billing performance, usage, payments and more.
Your contracts
On the 'Contracts' tab, you can request and view your contracts online. MyAccount will also alert you when your contract is near expiration or ready for renewal.
Setting preferences
On the 'Preferences' tab you can access a host of options to customize your MyAccount experience and manage how you work with us. Stay informed of important energy news, check your Messages inbox for notifications, and grant third party access to your power and gas accounts in MyAccount.